our approach

We understand influences on people's judgment, decision making and behaviour
Decision • Partners provides solutions based on advanced behavioural decision research. We use insight to precisely focus strategies, policies and communications on key influences on people's judgment, decision making and behaviour. Our methods are based on current understanding in cognitive psychology, decision science, risk management, risk perception and risk communication.
Our approach
Our proven Mental Modeling Insight™ approach is an evidence-based, science-informed management process for systematically understanding the influences on people's judgment, decision making and behaviour. By identifying the full range of people's thinking on complex issues, we work with our client partners to develop policies, strategies, interventions and communications that effectively address their stakeholders' needs, values, interests and priorities. The results – based on insight into stakeholder judgment – are measurable and sustainable.
Our ability to bridge the technical and social divide is a key strength. Our team of scientists, engineers, researchers and management professionals understand both the technical as well as the social issues associated with stakeholder judgment on a broad range of topics. We've helped clients successfully address numerous challenges related to organizational change and transformation; public health and safety; energy; environment; and operational resilience.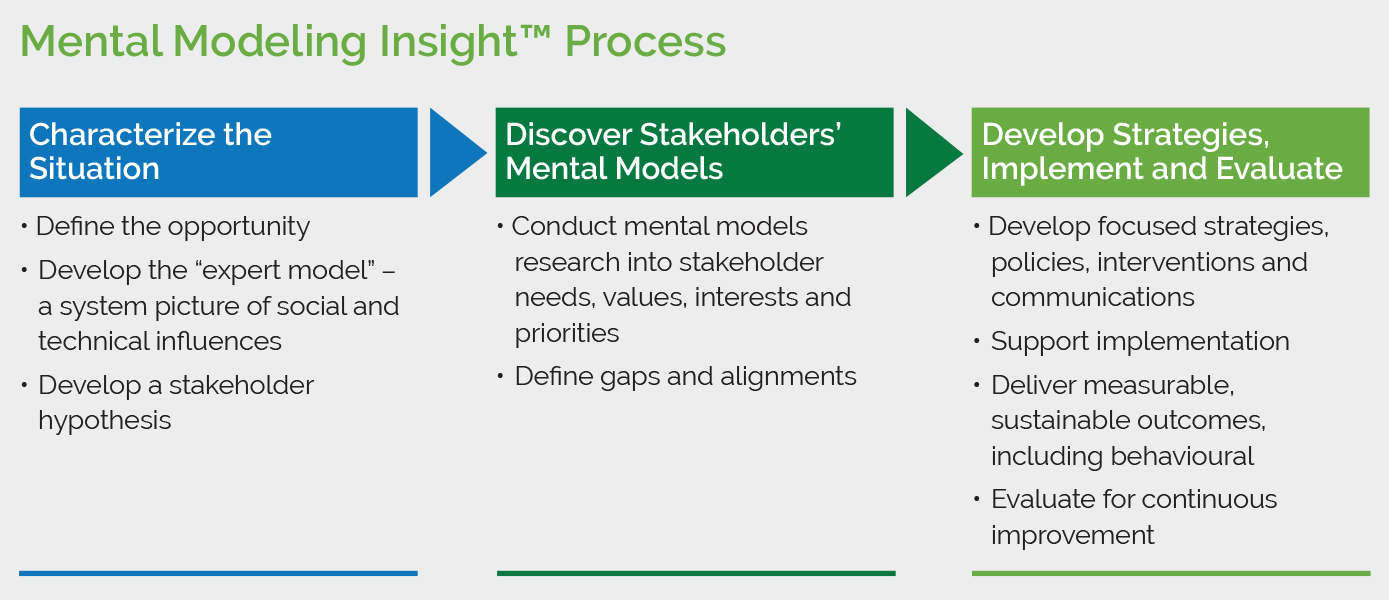 Applications and services
For the past three decades, our team has led development, implementation and measurement of research-based solutions at public and private organizations across a broad range of risk management, risk communications and stakeholder engagement challenges. Much of our work focuses on energy, infrastructure, environment, health care, public health, occupational health and safety, emergency preparedness, organizational transformation and, more recently, operational resilience, including climate change adaptation.